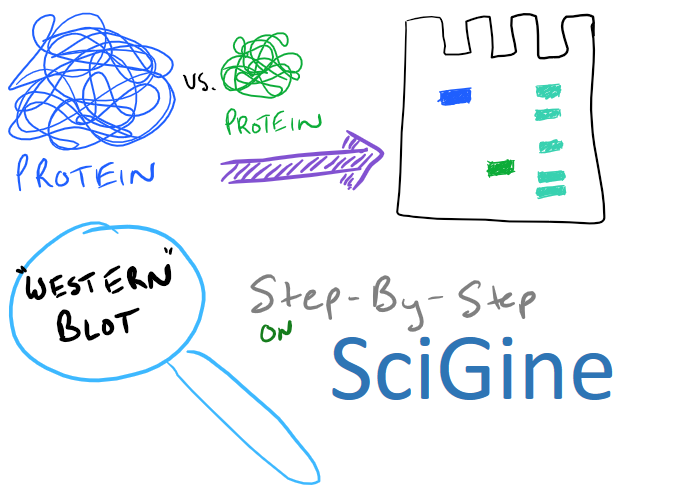 Overview of Western Blot Method
A western blot enables sensitive detection of specific proteins from a solution containing multiple proteins. This is an essential biology technique and one of the cheapest methods that can be utilized to analyze proteins. To perform a western blot first separate proteins based on their mass and charge via gel electrophoresis, and then follow up by detecting the protein of choice with a specific antibody. Typically, researchers will use western blots to separate proteins from cell media or from cell lysates. For example, if you wanted to find out how much actin your cells are expressing, a western blot can easily compare actin amounts between different cell types. It's also likely that you will be using western blots when producing proteins in mammalian and insect cells.
In a typical western blot procedure, cells will first be lysed and the amount of protein will be determined using a spectrophotometer. Then a gel will be made and the total protein from the cell lysate will be loaded into wells in the gel. After applying an electrical field, the proteins in the gel will begin to migrate down and separate into distinct bands based on the size and charge of the protein. After the smallest proteins reach the bottom of the gel, the electrophoresis will be stopped and all proteins on the gel will be transferred onto blotting paper so that they can easily be handled. Finally, antibodies that recognize the proteins of interest will be added and detected via chemiluminescence.
Related articles:
Here is a step by step illustration of how to perform a western blot: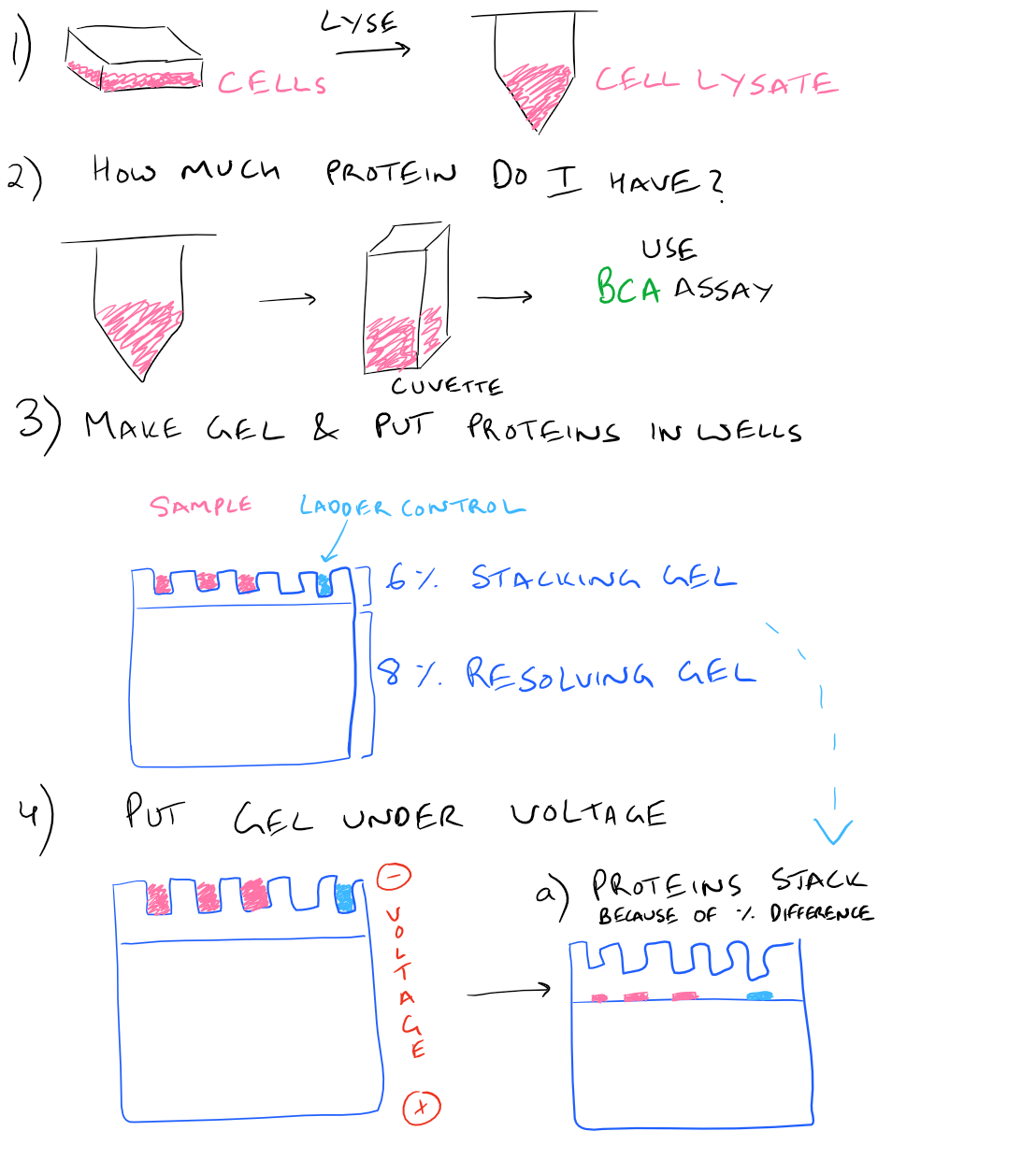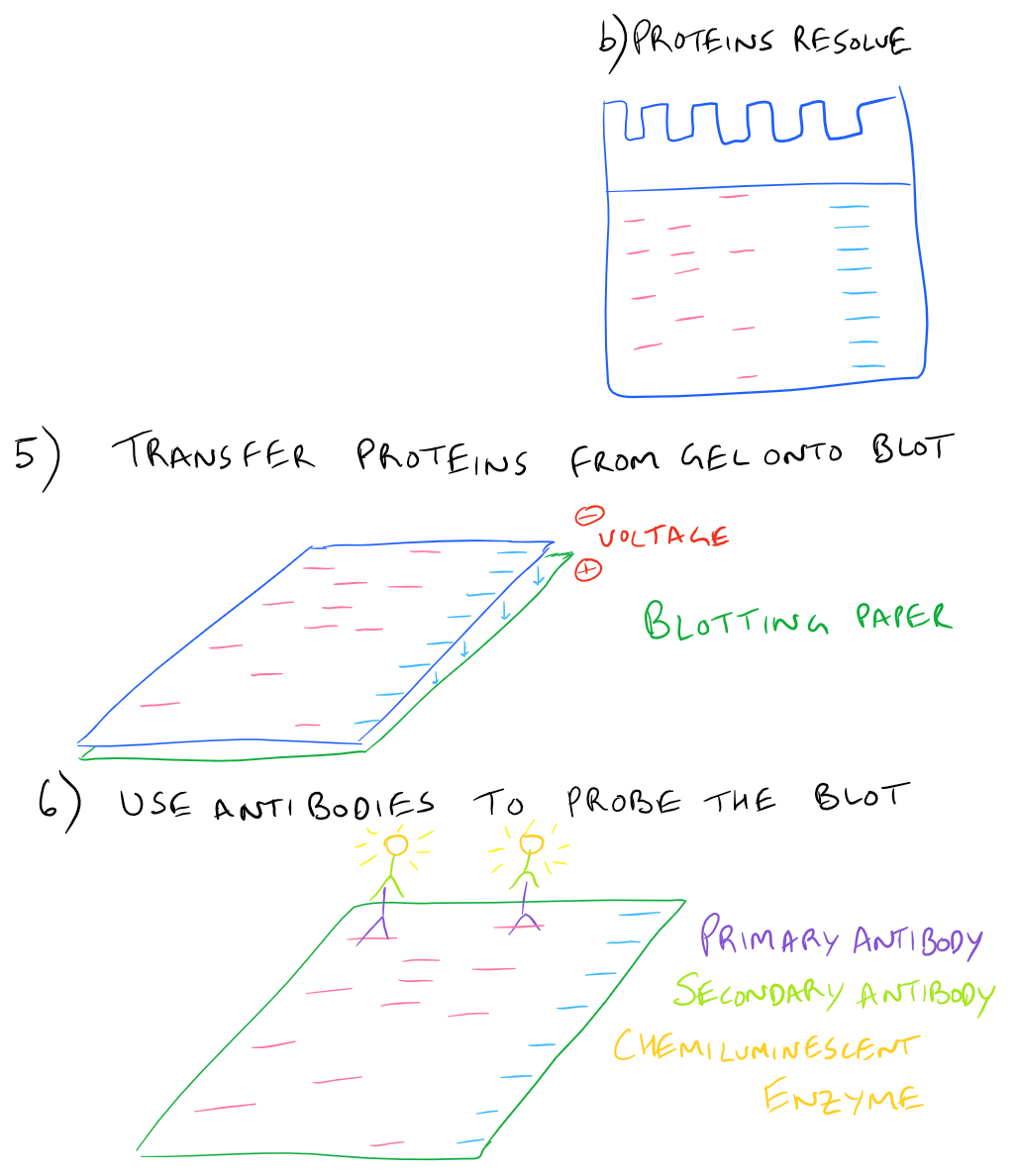 SDS-PAGE Western Blot Step-by-Step Protocol
Western blotting can be used to examine the upregulation of RCAN1, a signaling molecule in neuronal cell types.
Materials for Western Blots:
Rabbit anti-RCAN1 antibody (#SAB2101967, Sigma-Aldrich)
SDS-PAGE gel (Criterion TGX precast Stain-free Any kD gel, #5678124, Bio-Rad)
TBS (20 mM TrisCl pH 7.6, 150 mM NaCl)
Running buffer (25 mM Tris, 192 mM glycine, 0.1% SDS)
Transfer buffer (25 mM Tris, 192 mM glycine, 20% methanol, 0.05% SDS)
4X SDS-PAGE loading buffer (Laemmli's sample buffer #1610747 Bio-Rad; add fresh dithiothreitol to 10 mg/ml on the day of experiment)
Transfer membrane (0.2 um polyvinylidene fluoride membrane, #03010040001 Roche)
Secondary antibody (donkey anti-rabbit horseradish peroxidase-conjugate; #711-035-152 Jackson ImmunoResearch)
Blocking buffer (5% skim milk powder in TBS with 0.1% Tween20)
Immun-Star WesternC Chemiluminescence reaction solutions (#170-5070 Bio-Rad)
Dual color ladder (#1610374 Bio-Rad)
Blotting paper (ProteanXL, #1703966 Bio-Rad)
Western Blot Experimental procedure:
Unwrap precast gel and rinse wells three times with running buffer. Assemble gel in tank and fill with running buffer.*
In an Eppendorf tube add protein sample (30 µg) to 10 µl 4X SDS-PAGE loading buffer and add water to a final volume of 40 µl.
Heat samples to 95°C for 2 min and spin briefly to ensure contents are at the bottom of the tube
Load gel with samples and include ladder in one lane.
Run gel at 200V for 30 min.
While gel is running, soak two pieces of blotting paper (cut to the same size as the gel) in transfer buffer (approx. 30 min). Activate transfer membrane (also cut to size) by dipping in methanol, then soak in transfer buffer for approx. 10 min.
Remove gel from tank and place in transfer buffer.
Assemble transfer "sandwich" by placing down soaked blotting paper, transfer membrane, gel and blotting paper onto open transfer cassette (Turbo Blot transfer unit; Bio-Rad). Use a glass rod to roll across the "sandwich" to remove any air bubbles.
Close cassette and run in machine (standard minigel program for 30 min).
Remove transfer membrane from cassette, taking care to snip one corner to ensure orientation.*
Incubate transfer membrane in blocking buffer for 1 h at 4°C with rocking.
Pour off blocking buffer and add diluted anti-RCAN1 antibody 1:200 in 5 ml TBS with 2.5% skim milk power and 0.05% Tween20. Incubate overnight at 4C with rocking.
Wash membrane three times in TBS with 0.2% Tween20 at 4°C with rocking, for 10 min each time.
Incubate with diluted secondary antibody 1:2500 in 5 ml TBS with 0.2% Tween20 at 4°C with rocking for 1 h.
Wash membrane three times in TBS with 0.2% Tween20 at 4°C with rocking, for 10 min each time. Rinse membrane briefly in water.
Mix 1 ml each of ECL reagents in a foil-wrapped tube and add to membrane for 5 min prior to imaging on ChemiDoc MP imager (Bio-Rad).
Procedural notes for this Western Blot Method:
This precast gel contains 18 lanes with a loading capacity of 10-40 ug protein in up to 30 ul per well
Small needle-point markings can be added to membrane in-line with color markers which reduce in intensity following subsequent incubation and washing steps.
To make sure you know which step you are on, cut the bottom right side of your gel after running the gel electrophoresis.
In this method, the protein is denatured prior to running on the gel. This is called SDS-PAGE. By denaturing, you ensure that the size and charge are all that matter, as opposed to native gel electrophoresis where the conformation of the protein also matters.
Blots can be regenerated (the antibodies that were used for probing can be removed) by using stripping buffer. However, blots can only be stripped a few times before they have too much background noise to be easily analyzed.
References:
NIH Western Blot Reference
Western Blotting by Kurien et al
Good Video References Related to Western Blots: