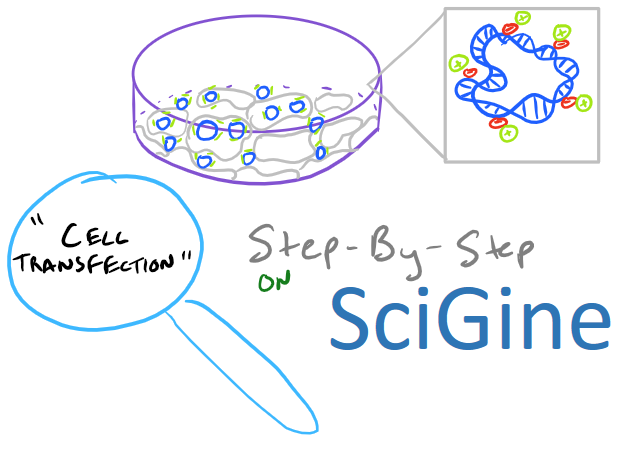 Transfection with Calcium Phosphate: General Summary
Molecular biology tools allow us to understand and manipulate DNA/RNA so that we can change how cells behave. In this next series of posts, let's learn how to manipulate cells and make them do our bidding. Among the list of methods to learn, the first tool to understand is transfection – the process by which we introduce new DNA into a cell so that we can change what proteins it creates. Specifically, we will focus on Calcium Phosphate transient transfection because it is a common and powerful technique. We can then combine transfection with some of our protein-manipulation techniques to change cell behavior and confirm that our changes actually had an effect: Immunoprecipitation (IP) and Western Blotting. Note that other techniques for transfection including electroporation, DEAE:Dextran based transfection, and lipid mediated transfection will be discussed in the future.
Note: If you're writing research papers, I highly recommend Grammarly – it's a free grammar check plugin for Chrome. Try it out here…
Transient vs. Stable Transfection
When you introduce DNA into a cell, it is possible for the cell to keep the DNA temporarily or permanently. Temporarily, a cell might keep your DNA as a packaged plasmid and express it until it divides. Permanent transfection takes place when the new DNA is integrated into the genome of the cell and it passes the DNA down through cell division into its progeny. It's difficult to determine when genes will be integrated into the genome (stable transfection) and when they will be kept temporarily (transient transition). There is a lot of luck involved. However, it is possible to only keep cells that have your DNA by selection. Take a look at the image below: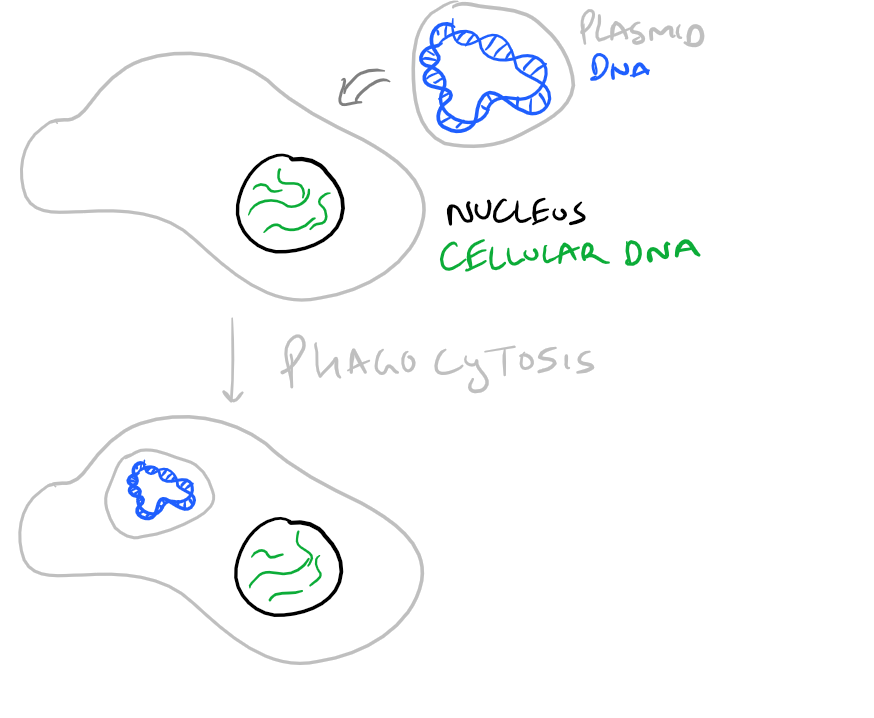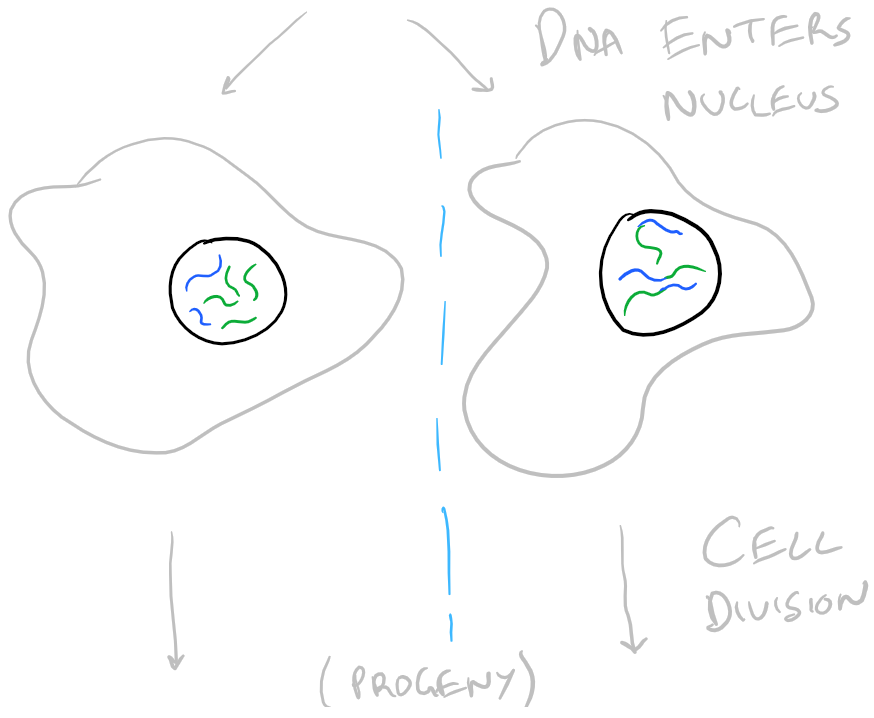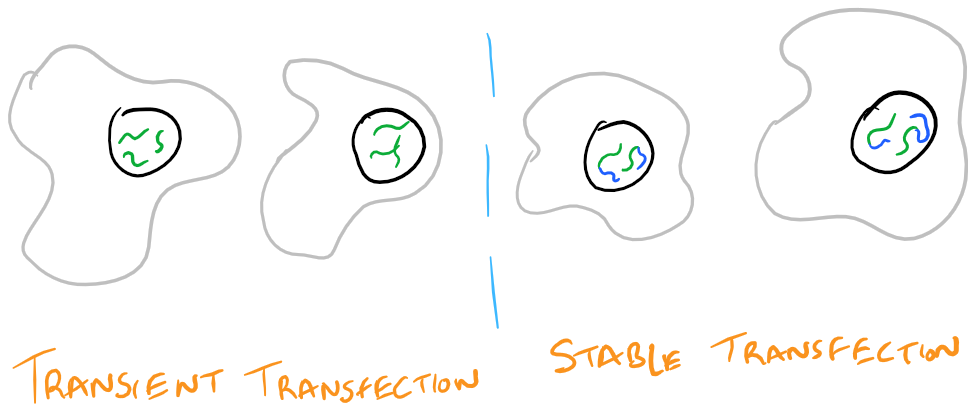 Calcium Phosphate Transient Transfection
To introduce DNA into eukaryotic cells such as mammalian cells, we need to neutralize the charge on the DNA. This is because cell surfaces are negatively charged and DNA that is unshielded will be repelled from the cell surface. Even if some DNA enters a cell, the nuclear envelope will also reject the DNA due to its charge. (For a picture of the DNA polymer look at our PCR protocol) So, the classical technique for neutralization of DNA's charge is to use Calcium Phosphate. The steps for transfection with Calcium Phophate are very straight forward:
Generate DNA strand (circular DNA is much easier to introduce)
Mix calcium phosphate with DNA and generate nanoparticulate precipitates
Incubate with cells
Select cells expressing the DNA of interest
Cells will tend to phagocytose the calcium phosphate nanoparticles and, with luck, they will allow the nanoparticles to enter the nucleus. Calcium phosphate transfection works well because of the stability provided by divalent calcium ions. Other methods such as lipofectamine and polyethylene imine based transfection also work similarly by neutralizing DNA's charge. But lipids offer the additional benefit of making the DNA complex more hydrophobic and hence make it easier for it to pass through the phospholipid bilayer.
The general technique is shown below: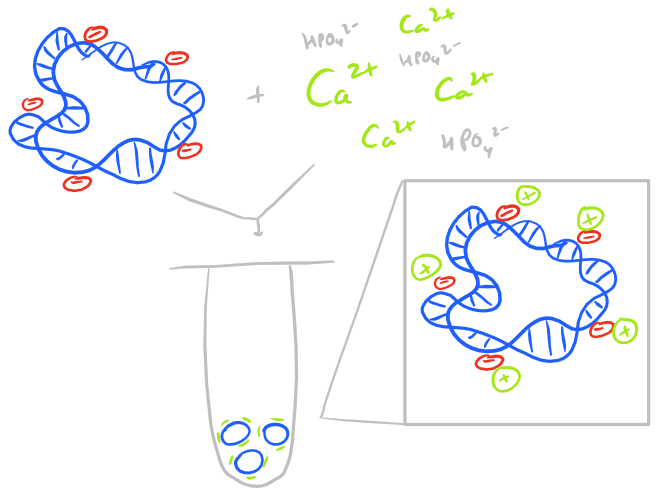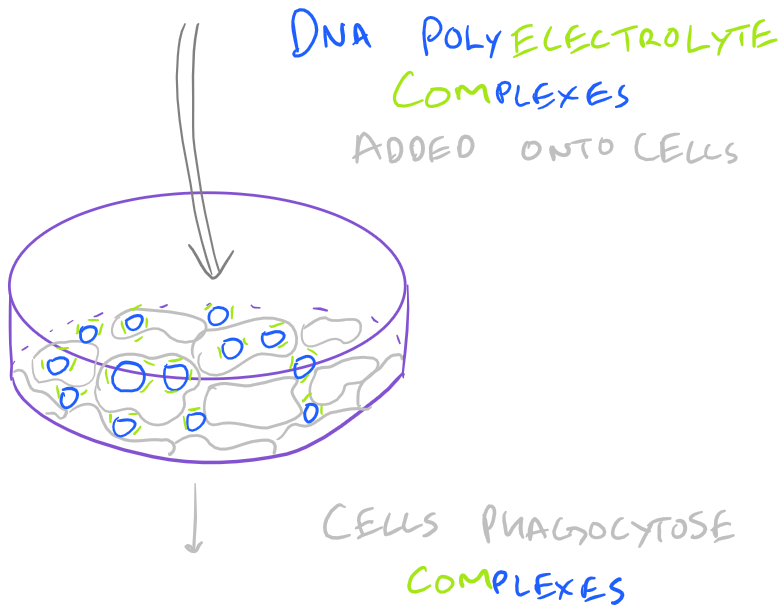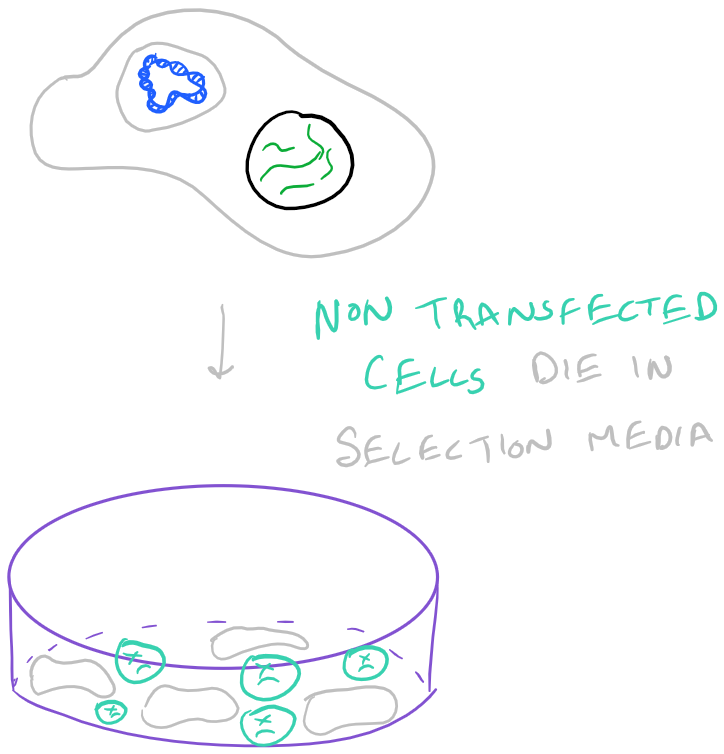 Tips and Tricks when optimizing your Calcium Phosphate Transient Transfection Protocol
Calcium Phosphate based transfection is a standard and well known technique. Calcium divalent ions bind the DNA polymers and neutralize their negatively charged phosphate backbones. However, optimization is necessary to maximize the DNA that is phagocytosed into your cell of choice. The variables that affect this technique's efficacy are:
The pH of the solution: Even differences of 0.1 units will have drastic effects on the efficacy of your transfection protocol.
Amount of DNA in the precipitate:Some cell types require a lot of DNA in the precipitate such as primary human foreskin fibroblasts. Others will tend to die instead of uptaking DNA, if you add too much DNA.
Incubation time with the precipitate:HeLa and 3T3 cells are relatively easy to transfect within 16 hours. These cells can tolerate DNA nanoparticles for extended periods of time. However, other cell types may need shorter incubation times and may tend to apoptose if exposed too long.
Additional glycerol or DMSO shock: It may be useful to "shock" cells with a 10% Glycerol solution or a 10-20% DMSO solution for a short time (~3 minutes). Carefully optimize this time for your particular cell type.
Rate of Formation of DNA nanoparticles: High efficiency transfection techniques have been discovered whereby buffers like BBS allow DNA nanoparticles to form slowly and precipitate onto cells. When this happens, cells tend to phagocytose more of the adducts and tend towards higher viability/less toxicity.
To make sure that your DNA is being incorporated into cells, you should include a reporter plasmid such as one with neomycin resistance (neo). You will need to optimize the ratio of neo reporter DNA vs. the DNA you want to include.
Calcium Phosphate Transient Transfection Protocol
Materials for Calcium Phosphate Transfection
HeLa cells
Complete DMEM
DNA (10 – 50 ug per transfection)
2.5 M CaCl2 (#C3306 Sigma Aldrich)
2x Hepes Buffered Saline (0.28 M NaCl, 0.05 M HEPES [#H3375 Sigma Aldrich], 1.5 mM Na2HPO4, pH 7.05 exactly)
PBS
Culture Dish
Materials for BBS Calcium Phosphate Transfection
HeLa cells
Complete DMEM
DNA
TE buffer, pH 7.4 (10 mM Tris-Cl, 1 mM EDTA)
2.5 M CaCl2
2x BES-Buffer (BBS) (50 mM BES [#B9879 Sigma Aldrich], 280 mM NaCl, 1.5 mM Na2HPO4 pH 6.95 exactly)
PBS
Selection Medium
Transfection Protocol Steps
Split cells such that there is space between cells.
Clean DNA by adding in 100% ethanol for precipitation
Dry DNA after aspirating supernatant from ethanol. Use air to make sure it is completely dry.
Resuspend pellet in 450 ul of water with 50 ul of 2.5 M CaCl2 buffer
Put 500 ul of 2x Hepes Buffered Saline in a 15 ml conical falcon tube
Add the DNA/CaCl2 solution dropwise to this tube while agitating with a stir bar or other mechanism.
Allow the precipitate to sit at room temperature for 20 minutes
Spread the precipitate over the cells along with their medium . Shake gently to make sure the precipitate is even.
Incubate in cell culture incubator at 37 oC with 5% CO2 for up to 16 hours
Remove medium, wash twice with PBS, and feed cells with complete medium.
Plate cells in selective medium.
Note: Grammarly is a free grammar check plugin for Chrome. I used it for this article and really like it! Try it out here…
BBS High Efficiency Transfection Protocol Steps
Seed cells in a dish so that they can double atleast twice so they can be stably transfected
Next day, dilute DNA in TE Buffer at 1 ug/ul
Make a 0.25 M CaCl2 stock
Mix 20-30 ug of DNA with 500 ul of 0.25 M CaCl2 stock.
Add 500 ul of BBS to this mixture and vortex. Incubate at room temp for 20 min.
Add this mixture to the cell culture dish dropwise and mix by gently shaking the plate.
Incubate cells overnight for 24 h at 3% CO2 at 35 oC.
Wash cells 2x with PBS and then incubate them in complete medium for 2 doublings.
Split cells and incubate in selection media.
Notes on this transfection methodology
Cell density has to be low but not too low. The ideal cell density allows you to reach confluence at the end of the transfection period without making the media acidic.
Also, space between cells increases transfection efficiency because DNA phagocytosis is proportional to exposed surface area of cells.
For some cells, incubate with 10% glycerol or 10-20% DMSO for 3 minutes, and wash twice with PBS, prior to adding the DNA nanoparticles. This may increase your transfection efficiency. However, for the BBS method, this step is not necessary because it will not affect cell transfection efficiency.
Supercoiled DNA and plasmid DNA works best with these procedures.
Depending on the plasmids that you introduce into cells, your selective medium will vary.
pH is EXTREMELY CRITICAL for transfection procedures. At the end of the transfection, pH of your medium should be alkaline at 7.6, but prior to the procedure, make sure all your buffers are clean and at the right pH.
All buffers above may be frozen and stored as aliquots. But it is important to make sure that your pH is correct prior to using freshly thawed buffers.
Applications of Transfection on SciGine
Murine L cells transfected with Calcium Phosphate and BBS Buffer
HeLa cell transfection with Lipopolyamine
Calcium Phosphate with HEPG2 and HEK293
MDAMB436 cells with Calcium Phosphate Transient Transfection
Transient Transfection Protocol for HEK293T cells
Transient and Stable Transfection Video Tutorial
References
Calcium Phosphate Transfection by Kingston et al.
High Efficiency Transfection by Chen et al.
Transfection Review by Kim et al.